Product introduction: Safehinge ALUmax and SUREclose
Safehinge ALUmax
Protecting fingers from being trapped in the hinge section of a door is paramount in primary and special needs schools with 30,000 children in these situations seriously injuring their fingers every year in the UK. There is huge benefit to fitting Safehinge product to our door sets that goes beyond primary education accidental finger trap occurs more than the figure suggest.
With its unrivalled reputation for safety, Safehinge ALUmax offers the ultimate in finger protection for all kinds of educational and healthcare facilities.  Working with over 56% of the UKs local authorities – it is the proven market leader for making doors safe.
ALUmax designs out the problem of children trapping their fingers.  Built into Principal Doorsets products, the integral design makes it ideal for new builds school projects.
Plus ALUmax's durable construction and supreme quality means it's built to last. Therefore, unlike plastic guards, it will not crack, tear or shatter - providing you with significant cost savings that are just as attractive as the sleek aesthetics.
Principal Doorsets has worked with Safehinge to offer an anti-finger-trap solution that is market leading in both performance and aesthetics. The robust nature of the pivot system applied to our doorsets complements the severe duties that our doors perform to.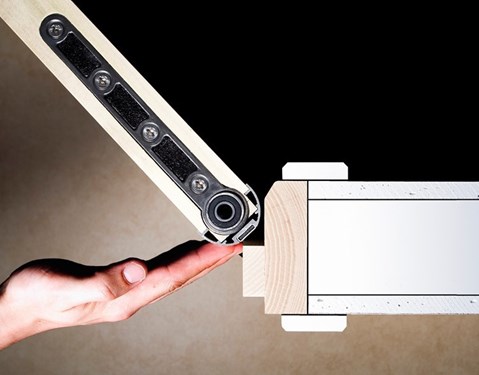 The key benefits of the Safehinge product and our doors can be summed up as:
Unrivalled safety
Almost impossible for small fingers to become trapped thanks to unique design and robust construction
Excellent value
Compared to plastic finger guards, long lifespan means considerable cost savings of up to £500 for each door over its lifetime
Efficient design
Almost no impact on structural opening requirements and aluminium profile ensures efficient manufacturing techniques are used to maximise quality whilst minimising cost.
Ultimate solution
Clever design solves problem and eliminates danger of trapped fingers, rather than just covering gap between door and frame
Stylish
ALUmax's sleek aluminium profile means it blends in beautifully with any existing fittings and complements any finish you specify on the door face and adjacent frame
Ideal companion
Works in harmony with door sets provided by us. The mechanical performance, aesthetics and low maintenance characteristics align perfectly with Principal Doorsets product range 
Click here to open in a new tab
ALUMAX IN HEALTHCARE, MENTAL HEALTH AND DEMENTIA
Healthcare, an extremely challenging environment, but luckily Principal Doorsets product range and ALUmax is more than up to the task, offering the ultimate in hygienic protection for both doors and fingers.
The ALUmax innovative design and durable construction mean that, unlike plastic guards, it can withstand heavy bumps and knocks from trolleys, equipment and patient beds. And because it's made from sleek aluminium rather than absorbent material, it's easily wiped clean, reducing the risk of infections.
ALUmax is perfect for double swing doors, and can be fitted using floor springs. Plus, of course, it stops fingers becoming trapped, thanks to its unique design. Coupled with anti-ligature ironmongery we offer an unrivalled solution in healthcare environments.
SUREclose – double swing doors
Safehinge SUREclose 
SUREclose is an overhead concealed door closer that works perfectly with double-swing doors in in environments where resistance to slamming of the doors is a requirement. A self-contained design is hygienic and anti-ligature.
Fitted in the frame head, with ALUmax integral finger guard on the door, it's tough, easy to install and - above all - safe.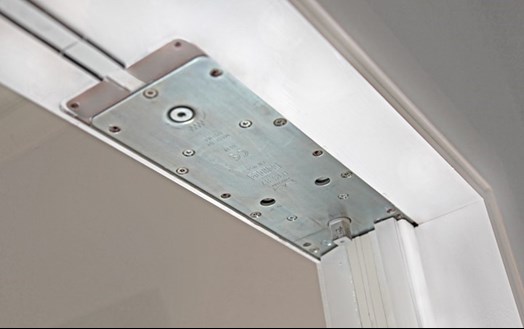 Without cover plate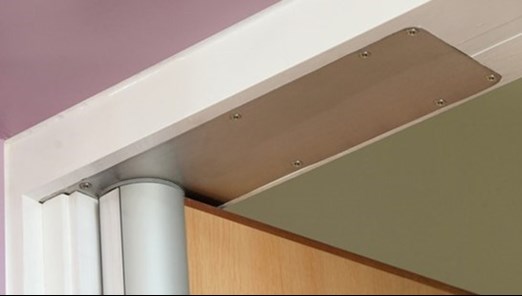 With cover plate

The minimal floor fixings eliminate the need for costly and disruptive floor spring excavations. Instead, the door closer is built into the frame head itself, so it's quick and easy to install on site.
With both standard and hold open options available it will be your perfect closer for those key fire compartment doors within your buildings fire strategy. Plus, because it's entirely self-contained, curious little minds can't tamper with it. 

Potential for children slamming the door open and damaging doors is reduced by the back check function.  This comes as standard on the full SUREclose range. 
Modern Construction
Absence of floor excavations is ideal for refurbs, modern construction and areas with underfloor heating
Controlled
Powerful back check function slows door's opening speed when kicked or slammed, reducing abuse to doors and keeping staff safe
Adjustable
Mechanical closer's power rating and closing speed can be modified once installed, ensuring opening force compliance
Double-swing
Choice of closing options to suit most Mental Health and Dementia doors, allowing anti-barricade or emergency access where needed
Options:
Standard: Modern concealed closer, suitable for all bedrooms and communal areas. The default shut position offers optimum fire protection, plus doors close automatically in a controlled fashion, so don't need to be managed. The adjustable power rating also ensures opening force is perfect for the door leaf. 
Delayed action: Instead of shutting immediately after opening, this option waits for an adjustable period before closing, giving services users more time to walk through. Ideal for all bedroom doors and corridor doors with access control, the adjustable closing force and speed also reduce slamming.
Free swing: Operates like a normal domestic door, with no opening force for frail, elderly users or those with reduced strength. Linked to the fire alarm, the door self-closes when needed. Ideal for all bedroom doors.
Hold-open: The default open position allows easy movement through a building and can make spaces feel more open and normalised. Linked to the fire alarm, it closes automatically when needed, so it's perfect for corridors used to create fire compartments.
Although designed for different environments, each version of SUREclose offers the same advantages. So the concealed transom design successfully avoids ligature points.  And the absence of floor fixings means no floor excavations are needed.  Plus the impressive back check function slows the door to a controlled speed if kicked or slammed, protecting both staff and the door itself.
Finger-Ejecting Guard (ALUMINI)
Perfect for existing hinged doors, surface-mounted finger guard by Safehinge offers a maximum opening angle of 180° and has a patented finger-ejection system to keep wandering fingers safe.
The unique design sees the semi-circular aluminium body floating on two retracting fabric sections. When the door opens, it moves into the gap and the tear-resistant fabric covers any remaining gaps — as well as ejecting any fingers that may stray inside.  
It's this clever semi-circular geometry – rather than fabric tension – that keeps fingers safe and uses extremely low force springs to maintain the door's original opening force. Its tough aluminium build can also withstand knocks and bumps and wipes clean easily. See it in action on this video
Click here to open in a new tab