Certification & Standards Further Information
                Certification                
BS EN ISO 9001-2015
Having our quality management system independently certified through a UKAS accredited body to standard BS EN ISO 9001, we believe demonstrates our commitment to quality, best practice and continual improvement of our procedures. BS EN ISO 9001 proves to stakeholders and customers that quality systems are meeting international best practice. It provides assurance that our quality management system is operating efficiently and effectively, demonstrating continuous improvement and efficiencies year after year.

Q-Mark Fire
Product certification is the ultimate endorsement of a product's performance. Products will always be made to achieve a certain performance, whether it's to a British, European or International test standard or simply to the manufacturer's own in-house specification.
Specifiers want greater confidence in a product than a manufacturer's declaration. They want evidence from a reliable independent source to confirm that the product has been properly tested and is manufactured to a consistent high standard.
BM TRADA Q-Mark is regarded as one of the most rigorous certification processes available for construction products, it is recognised by controlling authorities, home warranty providers such as the NHBC (National House Building Council) and is used by world-class construction companies and manufacturers.
Principal Doorsets is third party assessed under the Q-Mark Fire door manufacturing scheme. This scheme is most widely recognised and is probably one of the best systems available.
BM Trada us plugs to identify fire performance. The plugs are machined into the edge of the doorset (can be frame of leaf) that is not easily removed or damaged, allowing a longer cycle life to the doorset (fire resistance and manufacturer) identification.
BM Trada – Colour Coding of Identification Plug System:

The outer plugs represent the following periods of Fire resistance (minutes):

The inner "Tree" inserts represent:

When a door has a glazing panel, there is an additional plug and tree. The Tree is orange in colour whilst the plug is to the fire rating of the vision panel assembly.

BM Trada approved (and certified) installers my add an extra "plug" and "Tree" to show that a doorset has been installed to the manufacturer's recommendations.


BM Trada (part of the Element group of companies) assesses products that have been burnt in a controlled furnace, applying extrapolation and over run data techniques to establish a range (sizes) of products that will perform in a fire. These are regularly tested by doorset manufacturers as part of the third-party scheme. The BM Trada scheme has been evaluating doorsets for more than 30 years. It shares data to its members to ensure that the latest product and componentry is utilised, fully tested and certified.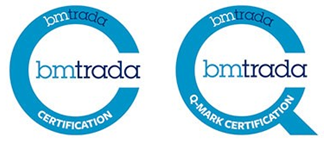 FSC®
Sustainability and exploitation are closely monitored. We have carefully selected the FSC scheme audited by Element Group BM Trada to provide us with the essential elements in assuring that the timber product we consume and provide to our customers are both from sustainable sources and do not exploit people in the process of getting product to us. 
We have a passionate commitment to sustainable timber procurement. We are third party audited and accredited. We have 100% FSC procured timber products and you are not charged a premium for this. Through the FSC family we ensure that the supply chain is both ethical in its use of timber and avoids labour exploitation in anyway.
FSC is the world's fastest growing forest certification scheme, driven by increasing market demand for responsible products. More and more businesses and consumers prefer products from well managed forests. FSC provides, the much needed connection between the forest and the end user, ensuring that products with the FSC label uphold the highest social and environmental benefits.
Environmentally appropriate forest management ensures that the harvest of timber and non-timber products maintains the forest's biodiversity, productivity, and ecological processes.
Q-Mark Security PAS 23 & 24
Security reliability is key, we are fully third party accredited to PAS24:2016, BS 6375 parts 1, 2 & 3. We have a wide experience and offer for both internal and external door sets to the security market. Whether it is for a timber door, steel faced or steel door set, Principal Doorsets has a solution for you.